AIRSTAGE MINI-SPLIT BENEFITS

Energy Efficiency
The Smart Choice in Comfort
As much as half of the energy used in your home goes to heating and cooling. Considering this, making smart decisions about your home's heating and air conditioning system can have a substantial impact on your utility bills — and your comfort.
The high energy efficiencies of AIRSTAGE systems slash utility bills by up to 24%. For example, if your average annual utilities are $4,200, Fujitsu General can save you approximately $1,000 annually!*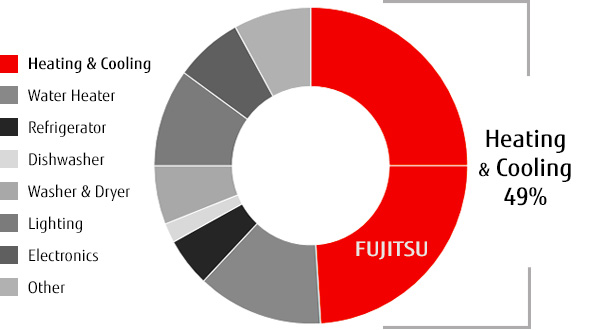 Rebates are an added benefit. To encourage customers to buy energy efficient products, many local utility companies offer significant rebates for the purchase of a ductless mini-split system. Tap or Click here to search for local rebates, consumer loans and utility bill discounts.
What Makes Fujitsu General Mini-Split Systems Energy Efficient?
1. Ductless Technology
2. Individual Zone Control
3. ENERGY STAR® Ratings
4. Inverter Technology

ENERGY STAR® Systems

Click here for a full listing of Fujitsu General's current
ENERGY STAR® systems.