AIRSTAGE MINI-SPLIT BENEFITS

Décor Options - Indoor Unit Style

Fujitsu General heating and cooling systems come in a variety of sizes and indoor unit styles. Choose from 7,000 Btu to 24,000 BTU/h indoors and up to 60,000 BTU/h outdoors to achieve the appropriate amount of conditioning for your space. Indoor models are available in Wall Mounted, which mount high on the wall, Floor Mount, which are ideal for any room with limited upper wall space, Slim Duct, which is concealed in the ceiling and has the look of central air, or Compact Cassette, which fits perfectly into a drop ceiling configuration with just the outer grille showing.
Wall Mounted
Mount high on a wall, out of sight and do not require ductwork, increasing energy efficiency. These systems come in a variety of BTU/h sizes ranging from 7,000 (in a multi-zone configuration) up to 36,000 BTU/h and can be used as single zone or multi-zone systems.
Quiet operation
Easy maintenance
High delivered efficiency means lower utility bills
Floor Mounted
These models have a sleek modern look and are ideal for residential radiator replacements or any room with limited upper wall space. There are two different series of floor mount lines available – the RLFF line that provides heating down to -5F outdoor temperatures and the RLFFH line that provides heating down to -15F outdoor temperatures, for extremely cold climates.
Compact size fits easily under a standard window
Features twin airflow for improved heat delivery
Slim Duct
Mounted in a ceiling or in a framed enclosure below a ceiling. They use minimal ductwork and remain very energy efficient. These models are available as single zone or multi-zone configurations ranging in size from as low as 7,000 BTU to as high as 24,000 BTU.
Concealed and out of sight
Look of central air with the efficiency of a mini-split
Compact size
Flexible installation - either horizontal or vertical
Low height and built-in drain pump enables compact soffit or cabinet installation
Quiet operation down to 24 dB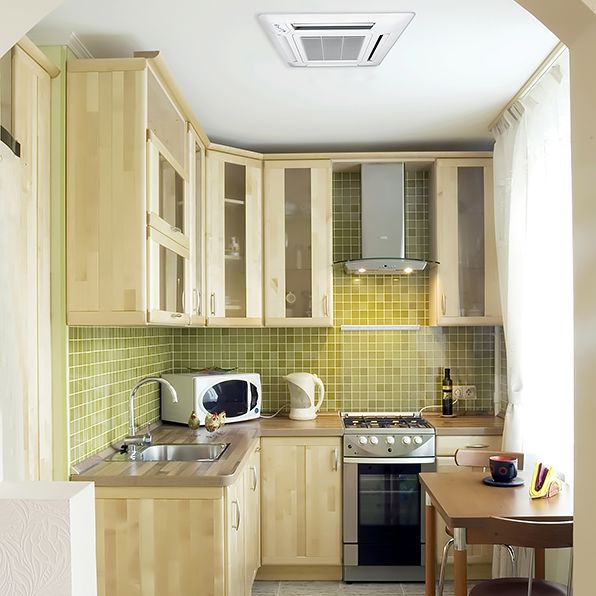 Ceiling Cassette
Extremely discreet, with only the grille showing in the ceiling. The latest fan technology is used to distribute the conditioned air evenly.
Wired remote controller
Powerful turbo fan
Compact size (22-1/2" x 22-1/2") fits into a standard ceiling tile*
4-Way airflow
2-Stage turbo fan distributes air evenly across a heat exchanger producing two separate airflow streams
Can operate in limited space above the drop ceiling
*

Dimensions of outer grille are 27-9/16" x 27-9/16" and may overlap adjacent tiles.