Ventilation

DX Kit for Air Handling Applications
Different control strategies for optimized control of air handling & fan coil units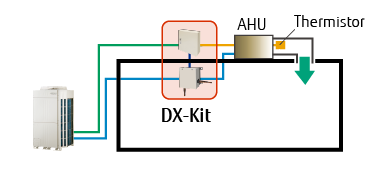 When connected to an air handling unit (AHU), the temperature of supply air is controlled by a discharge sensor.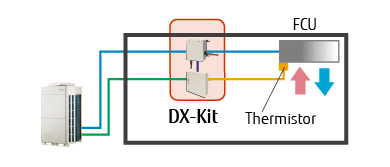 When connected to a fan coil unit (FCU), the room temperature is controlled by a return-air temperature sensor.
Application as part of a VRF system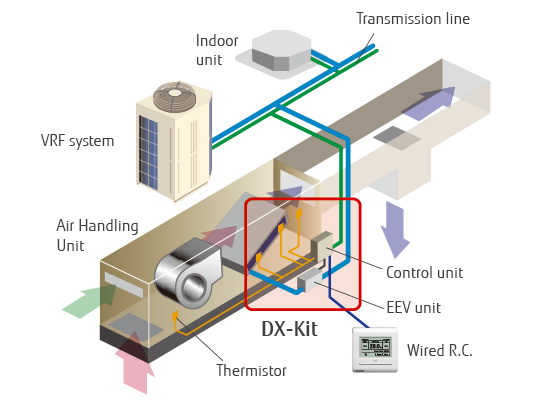 Supports a wide range of capacity classes
Connectable capacity range: 18,000 BTU/h to 168,000 BTU/h
2 EEV units can be connected in parallel for up to 168,000 BTU/h large capacity units. (Separation Tube kit UTP-LX180A is required for 144,000 BTU/h / 168,000BTU/h.)

A variety of control options that meet application requirements

Central control using VRF controllers or central management (BMS) controller

Central control from external controllers
Inputs
On/Off
Setting temperature
Capacity demand
Heating and cooling operation modes
Fault information
Outputs
On/Off indication
Fan On/Off indication
Thermostat On/Off indication
Defrost indication
Fault indication
MODBUS® Control
Possible to control via Modbus interface for the integration into a BMS system.
Installation Limitation
Connectable VRF series: J-IIIL, J-IIS, J-II, V-II, VR-II
Connectable DX-Kit system capacity range: 50 to 100% of the outdoor unit capacity
Connectable DX-Kit system capacity range with indoor units: 30% or less of the outdoor unit capacity
Max wiring length from control unit: 32ft. (10m)
Max piping length between EEV unit and indoor unit: 16ft. (5m)
Outdoor installation: Control unit and EEV unit can be installed at an outdoor space.

For 2EEV units connection (option) Separation Tube kit : UTP-LX180A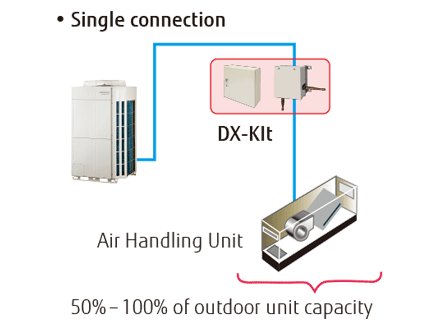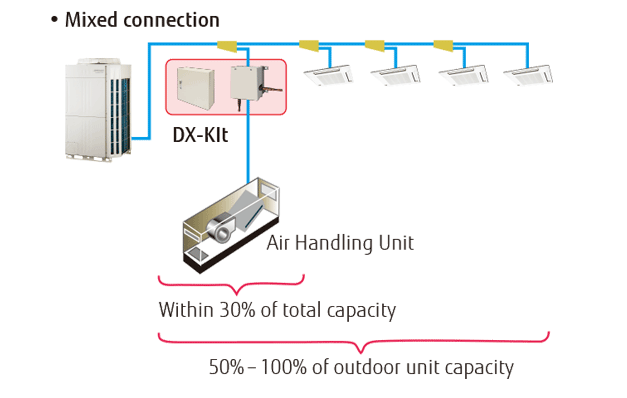 Piping and wiring length