AIRSTAGE™ VRF Systems

J-IIS Series
Space saving and quiet design
Economical individual comfort is achieved through the DC technology, large capacity DC twin rotary compressor, and 3-row heat exchanger.
Flexible systems for homes, and small-size buildings
Due to its compact size and flexible piping design, J-IIS series can be installed easily in places where installation space is limited such as homes, shops, and small offices. Multiple indoor units of various capacities and types can be connected.
Small and light weight outdoor unit
This model is much more compact than conventional 3 and 4 ton outdoor units. Even when installed on a balcony it fits within the height of the railing. The compact size with a height of less than 3.3ft (1m) allows it to be installed under windows and in tight spaces
Advanced technologies for high efficiency
Large heat exchanger
Heat exchange performance is substantially improved by mounting of 3-row to the heat exchanger.
DC inverter control
The use of a new active filter module improves efficiency.
DC fan motor
A small, multi-stage DC fan motor contributes to highly efficient, low noise operation.
Large Propeller Fan
High performance and low noise realized by large propeller and optimization of angle.
Smooth airflow grille
The aerodynamically designed grille provides excellent efficiency with little blow loss.
High Efficiency DC Twin Rotary Compressor
DC twin rotary compressor provides great performance under all load conditions. Its performance is optimized for part-load operation.
Long piping length
Our advanced refrigerant control technology allows us to achieve a total refrigerant piping length of 262ft. (80m). This opens up new possibilities in system design.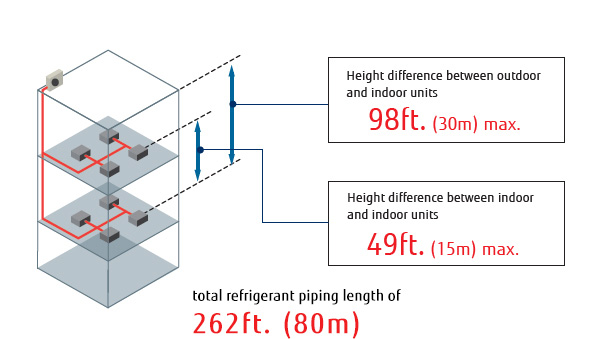 Nonstop operation during oil recovery
The air conditioner maintains uninterrupted cooling or heating operation during oil-recovery mode and keeps the room comfortable.
Easy installation
Connection check function :

Allows you to confirm whether wiring connection and address settings are correct by a quick check run function.
Displays connected indoor unit addresses
Displays system connected capacity